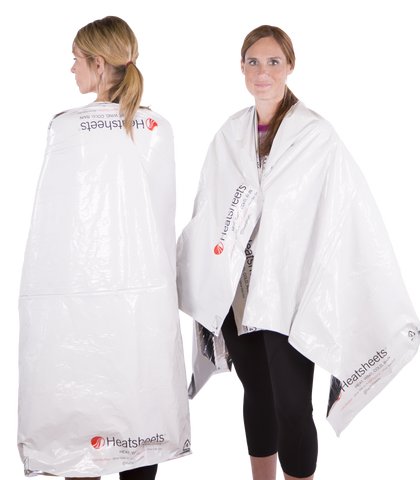 Heatsheets® Classic Blankets (200 count dispenser carton) **PLEASE EMAIL info@heatsheets.com FOR ORDERS OF 15 CARTONS OR MORE TO RECEIVE TIERED PRICING
Free US Ground Shipping & Handling*
**For orders of 10 or more dispenser cartons, please contact us directly at info@heatsheets.com for tiered pricing!
72" x 47.25" Heatsheets Classic white/silver Heatsheets®-on-a-Roll™ with usage instructions. 200 count dispenser carton. Sold in full cartons only. 
Heatsheets Classic Blankets feature usage instructions to keep users protected from virtually any weather. Heatsheets blankets can be used silver side in for cold weather, reflecting up to 90% of the user's body head back to them, or silver side out in warm weather, deflecting heat away from the user to allow the body to stay cool.
Heatsheets Classic Blankets are made from a #4 recyclable metallized LDPE film and feature our proprietary Silver Lining technology, which is based on radiant barrier technology developed by NASA for the U.S. Space Program. Used with our Hands-Free Heatsheets Tape, finishers can stay warm and dry while keeping their hands free for food and drink, or to take a selfie. Heatsheets Blankets, which have been ubiquitous at finish lines worldwide since they were first introduced at the 1980 New York City Marathon, are produced, printed and converted in the United States, using eco-friendly materials.
* Free shipping offer valid for shipments to U.S. addresses only (commercial or home) on orders less than 120 total pounds. No promo code necessary.
---
We Also Recommend
---